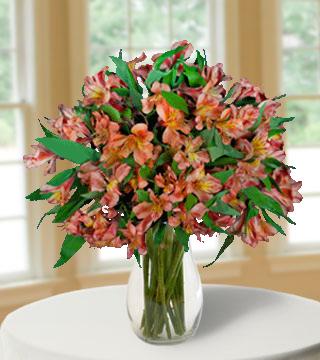 A splash of orange Alstroemeria, the gorgeous flower also known as the 'Peruvian Lily', is renowned for its delicate orchid-like blooms that contrast against the rich green leaves decorating each stem.
One of our most popular arrangements and seasonal favorites this beautiful orange bouquet will make anyone smile!
The lilies arrive read to blooms in bud form to maximize the longest-lasting enjoyment possible by special someone.
GREAT bouquet includes 15 stems.
GREATER bouquet includes 25 stems.
GREATEST bouquet includes 35 stems.
Your purchase includes a complimentary personalized gift message.
Includes:
• Orange Peruvian
• Alstroemeria Lilies
• Free Personalized Gift Message
• Fresh Flower Delivery
---
Recently Viewed
Related Products
---