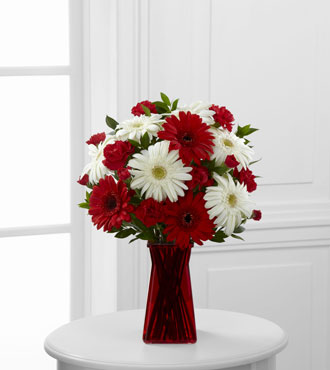 Spread happiness and joy with a colorful bouquet of lowers. This beautiful flower arrangement captures the attention of any on-looker with its lush greenery, white and red gerbera daises, and red vase. The bouquet is perfect for catching the attention of someone special or making sure that your wedding goes as smoothly as planned.
GREAT bouquet includes 8 stems. Approx. 15"H x 11"W.
GREATER bouquet includes 12 stems. Approx. 16"H x 12"W.
GREATEST bouquet includes 16 stems. Approx. 18"H x 13"W.
FTD® Instant Happiness™ Bouquet
---
Recently Viewed
Related Products
---
"The stark contrast of colors in this arrangement make it almost impossible to not look at. It instantly puts a smile on one's face."

5/5 Stars
"This bouquet has the perfect amount of red and white daisies. They are mixed beautifully. It is sure to put a smile on anyone's face."

5/5 Stars
"This bouquet looks like a Valentine in a vase! I love gerbera daisies, and the white sets off the red perfectly."

3/5 Stars