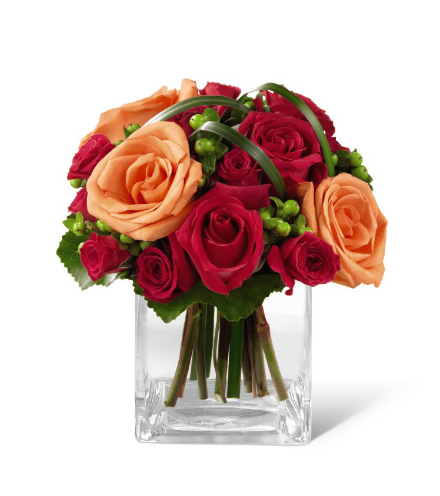 Send thoughts of deep emotion to your sweetheart with this breathtaking floral display. This dazzling arrangement has the freshest, most beautiful array of roses and mini roses in vibrant colors of fuchsia, hot pink, and orange. Order this bouquet online today for same day delivery and enjoy this season's freshest flowers, carefully arranged together in a unique clear glass cube vase. Add chocolate or a mylar balloon and make your gift extra special.
GREAT bouquet includes 10 stems and approx. 11"H x 11"W.
GREATER bouquet includes 15 stems and approx. 12"H x 12"W.
GREATEST bouquet includes 19 stems and approx. 13"H x 13"W.
Includes:
• Clear Glass Cube
• Galax Leaves
• Lily Grass Blades
• Green Hypericum Berry Stems
• Hot Pink Roses
• Hot Pink Spray Rose Stems
• Orange Roses
• Free Personalized Gift Message
• Delivered by a Local Florist
FTD® Deep Emotions™ Rose Bouquet by Better Homes and Gardens®
---
Related Products
---
"A great romantic bouquet that says something special to your sweetie in the language of flowers!"

5/5 Stars
"This bouquet looks really nice. I like how the red and light orange complement each other."

4/5 Stars
"This bouquet is very elegant looking. The rich red in contrast with the pale orange are very complementary and look gorgeous."

5/5 Stars