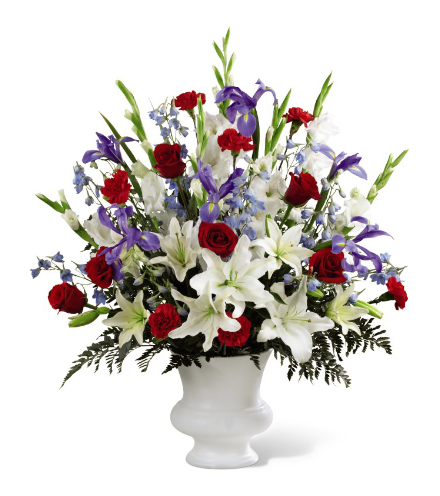 This patriotic flower arrangement is appropriate for honoring the final service of someone special.
The beautiful red, white and blue hues interweaving throughout this bouquet offer a comforting site and invokes thoughts of love and patriotism. These fresh flowers are tenderly arranged by local florists and set inside a designer urn to honor the service and say goodbye. Add thoughts of comfort in a complimentary card message, included in your order.
GREAT arrangement is approximately 32"H x 26"W.
GREATER arrangement is approximately 35"H x 29"W.
GREATEST arrangement is approximately 36"H x 30"W.
FTD® Cherished Farewell™ Arrangement
---
Recently Viewed
Related Products
---
"Very nice sympathy arrangement. The reds blues and whites go very nicely together." - By Lakesha L

4/5 Stars
"A fitting bouquet for the passing of a loved one. The varied arrangement is loving and peaceful." - By Lauri U

3/5 Stars
"The red, white and blue of this arrangement bring with it a sense of patriotism. The flower choices-especially the lilies - work well to remember loved ones." - By Margery H

5/5 Stars