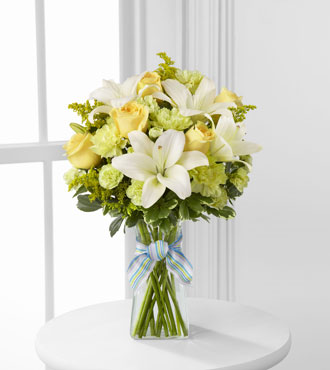 Congratulate a loved one on the birth of a new baby boy with a special flower arrangement.
This bouquet includes roses, carnations and lilies combined together into a kaleidoscope of soft yellows, greens, and white. Just like a warm breeze at the beginning of summer, the FTD® Boy-Oh-Boy™ Bouquet offers a message of congrats for a bright new beginning. This gift is florist arranged and available for same-day delivery.
GREAT bouquet includes 10 stems. Approx. 14"H x 11"W.
GREATER bouquet includes 16 stems. Approx. 18"H x 13"W.
GREATEST bouquet includes 21 stems. Approx. 19"H x 14"W.
---
Recently Viewed
Related Products
---
"The bouquet has a nice assortment of flowers. It's a lovely gift for a new mom. I enjoy arrangements like this because you can reuse the vase!" - By Divina A

4/5 Stars
"The roses and Asiatic lilies make this a beautiful and happy bouquet. This would be a great gift for a mother with a newborn." - By Edmund N

4/5 Stars
"Very pretty the whites and pale yellows go together very nicely. It looks like an arrangement for a wedding." - By Pat H

4/5 Stars