FTD® Blazing Beauty™ Rose Bouquet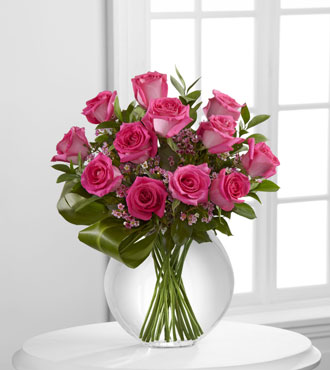 Item Description
Item#: 200125
If you are looking for a modern interoperation on the traditional rose bouquet, then this flower arrangement gives you just the right balance of classical romance and contemporary design. Hot pink roses are mixed with pink waxflowers and subtle greens to create a bright and sophisticated flower arrangement inside a special vase. This flower arrangement is wrapped together with a beautiful ribbon, which makes it stand out as a bold and beautiful gift.
GREAT includes 9 stems. Approx. 17"H x 14"W.
GREATER includes 12 stems. Approx. 20"H x 17"W.
GREATEST includes 15 stems. Approx. 23"H x 20"W.
FTD® Blazing Beauty™ Rose Bouquet
---
Recently Viewed
Related Products
---
"These roses are wonderful! Far cry from the usual red types. Amazing present for sure."

5/5 Stars
"These stunning flowers feel both regal yet down to earth and playful. They are very romantic without being too serious. Playful and classy!"

5/5 Stars
"This is a the perfect shade of pink. It is minimalist yet sexy and sleek at the same time."

5/5 Stars