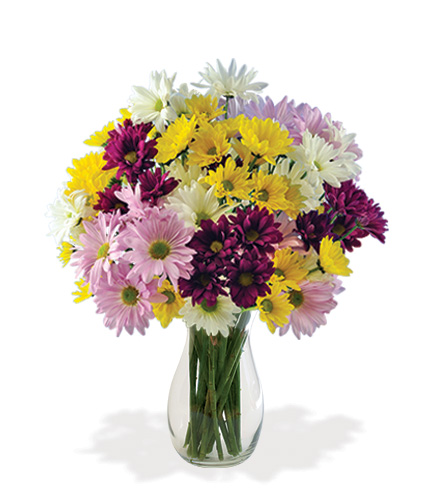 Give a gift of instant smiles with fresh Daisies in cheerful assorted colors. A traditional favorite, Daisies are symbolic of cheerfulness, innocence and purity, and are simply perfect for any occasion or any age of flower-lover. Send this bouquet with a matching colored vase to make a lasting impression. Each stem features multiple beautiful blooms.

GREAT bouquet includes 8 stems
GREATER bouquet includes 12 stems
GREATEST bouquet includes 16 stems

Your purchase includes a complimentary personalized gift message.
---
Recently Viewed
Related Products
---
"This colorful bouquet is a perfect way of reminding a loved one how much you care." - By Zoe H

4/5 Stars
"This is such a bright, happy bouquet! The yellow daisies really pop when compared to the burgandy and pink blossoms." - By Amanda A

4/5 Stars
"I especially love the pink daisies in this bouquet. It is impossible not to smile when looking at this cheerful mixed bouquet!" - By Paul H

5/5 Stars