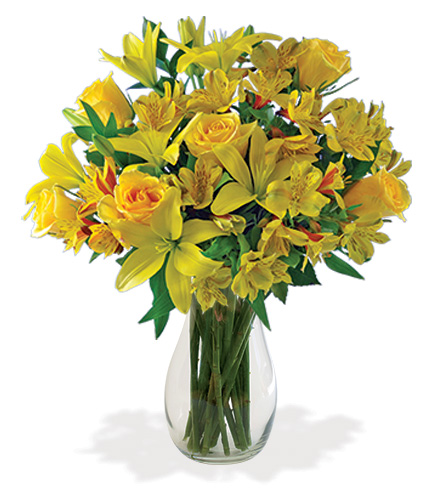 Citrus Smiles spread sunshine and cheer with each brilliant bloom! An incredible way to brighten their day, our premium yellow roses and lilies are nestled in a cloud of Peruvian lilies. All stems come together to create a bright and beautiful bouquet. By adding an accent matte green glass vase this long-lasting arrangement will keep them grinning day after day.
Lilies arrive in bud form for long-lasting enjoyment by the recipient.
GREAT bouquet includes 23 stems
GREATEST bouquet includes 32 stems
Your purchase includes a complimentary personalized gift message.
Includes:
• Yellow Alstroemeria
• Yellow Roses
• Yellow Lilies
• Ruscus
• Card Message Included
• Flower Delivery Available Today
---
Recently Viewed
Related Products
---
"I like how the yellow flowers in this bouquet all fit nicely together and differ in size. They contrast nicely against their green stems."

3/5 Stars
"Pretty arrangement. I like the depth of the yellow color."

4/5 Stars
"This citrusy-inspired bouquet of long stemmed yellow flowers really stands out and brightens up a room!"

4/5 Stars