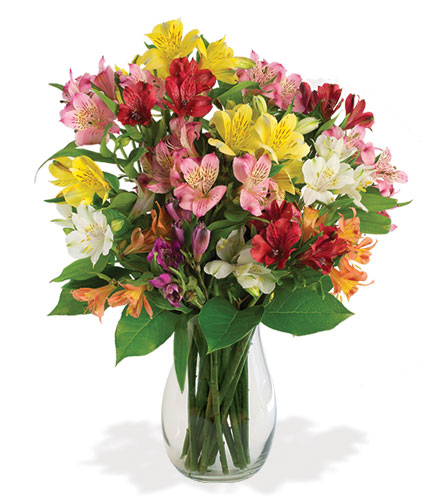 Item Description
Item#: 7946 SKU#: BTGB-PLYMT50
Capture the imagination of someone special with a gift that delights the senses. A spectrum of fresh multi-color Alstroemeria Lilies deliver smiles for birthdays, anniversaries or any occasion that needs brightening up. Send double the stems and truly make their day unforgettable!
Lilies arrive in bud form for long-lasting enjoyment by the recipient. Each stem features multiple beautiful blooms.
Includes:
• Multi-color Alstroemeria Lilies
• Free Personalized Gift Message
• Fresh Flower Delivery
---
Recently Viewed
Related Products
---
"The bouquet of mainly bright and lightly-colored lilies offers a number of unique and stunning color contrasts. Modern yet pleasant and uplifting, for sure." - By Mariano L

5/5 Stars
"I love the color variety in this bouquet. The orange lilies are my favorite. These are great for my wife's birthday." - By Zoila R

4/5 Stars
"There are to many colors going on in this arrangment, purple does not go with orange. I cannot really think of a purpose for it." - By Camilla X

1/5 Stars