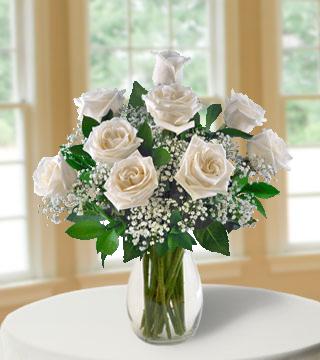 Item Description
Item#: 100148
Whatever the occasion, give a gift that stands out in a crowd! This bouquet of fresh premium long-stem white roses is sophisticated and stunning! White roses convey a message of humility, purity, and reverence, creating a gift of classic beauty they'll always cherish! Add a splash of seasonal color by selecting a colored vase - a spectacular gift that is sure to stand out above all others!

GOOD bouquet includes 6 stems
GREAT bouquet includes 9 stems
GREATER bouquet includes 12 stems

Your purchase includes a complimentary personalized gift message.
---
Recently Viewed
Related Products
---