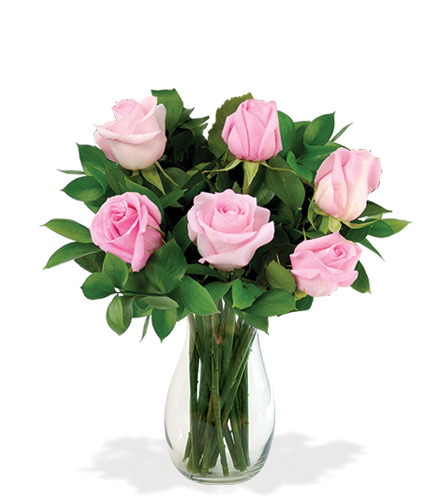 This bouquet is a fresh breath of color and beauty that offers your warmest sentiments with its exquisite grace. 6 of gorgeous pink roses are accented with bright bunches of baby's breath. Paired with a colored vase, makes this a keepsake piece that they will cherish long after the initial gift of flowers fades.

GOOD bouquet includes 6
GREAT bouquet includes 9
GREATER bouquet includes 12

Your purchase includes a complimentary personalized gift message.
---
Recently Viewed
Related Products
---
"This bouquet of pink flowers is a great symbol of love, and can be used as decoration for an important event or just to brighten up the home."

4/5 Stars
"The pink roses seem much more delicate and tranquil over the traditional red roses. I like the look and these would be perfect for my mom."

4/5 Stars
"This bouquet is soft and feminine. The pink roses are very graceful and the baby's breath make it look elegant."

4/5 Stars