FTD® Graceful Grandeur™ Rose Bouquet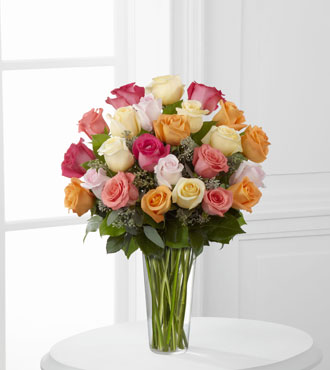 This sensational bouquet of two-dozen, brightly colored roses is sure to please any lucky recipient.
These graceful roses come in an assortment of colors of cream, orange, pink, coral. Our expert florists will hand-pick and carefully arrange them in a delicate glass vase atop an array of forest greens and baby's breath. Complete with a custom card message, this is truly a mesmerizing sight to see.
FTD® Graceful Grandeur™ Rose Bouquet
---
Recently Viewed
Related Products
---
"The beautiful contrast between the deep green leaves and the pink, orange, yellow and white roses make this a wonderful gift for any occasion." - By Cecil A

5/5 Stars
"What a warm and colorful bouquet of roses. This arrangement evokes strong feelings of joy!" - By Iola U

5/5 Stars
"I like the variety of colors of roses in this bouquet, from pink to orange to yellow. It's pretty but also quite average in that there is nothing that really stands out." - By Antonietta W

3/5 Stars