European Garden with FREE Vase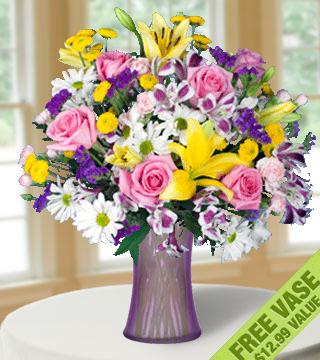 Make a grand impression with this lively assortment of fresh roses, lilies, mini carnations, button poms, daisies and statice. This long-lasting gathering of flowers are the perfect touch for any occasion! And For a Limited Time Only, get a FREE colored vase that will add extra charm to this delivery.

Lilies arrive in bud form for long-lasting enjoyment by the recipient.

GREAT bouquet includes 21 stems and a FREE colored vase
GREATER bouquet includes 28 stems and a FREE colored vase
GREATEST bouquet includes 35 stems and a FREE colored vase

Your purchase includes a complimentary personalized gift message.
European Garden with FREE Vase
---
Recently Viewed
Related Products
---